Residential Gutter Cleaning - Gold Coast Gutter Cleaning
Residential Gutter Cleaning
A rain gutter blocked with debris can lead to severe damage to the interior or exterior of your home.
Our busy Gold Coast customers want the following when it comes to their gutter cleaning service:
Gold Coast Gutter Cleaning is fulfilling that need!  Considering our extensive and loyal customer base, we consistently prove we are the best choice on the Gold Coast when it comes to cleaning gutters and down pipes, repairing roof leaks, installing gutter guard or just caring for your roof.
Whether it be a carport roof or a designer home with the steepest roof, we can solve your problem.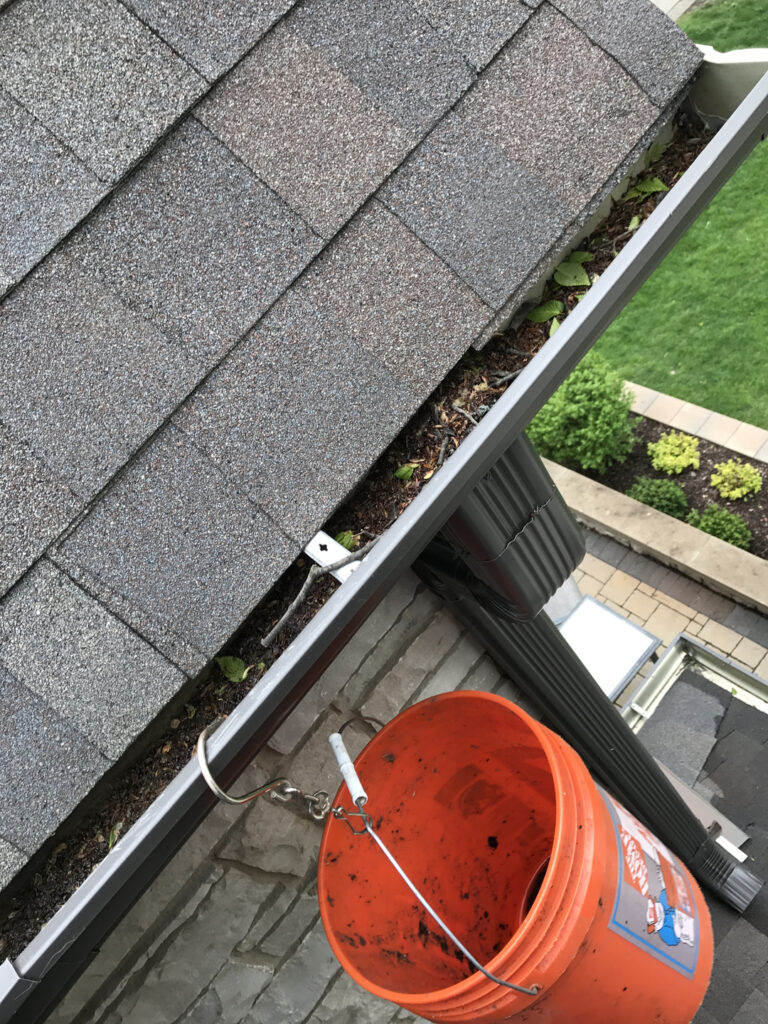 How do I get a Quote or Make Booking?
It's so EASY all you need to is one of the following:
1) Fill in the Request an Online Quote form
OR
2) Give us a call on 0492 943 013
A qualified tradesman can meet you at your property to provide you with a quote, or many of our customers are happy for us to call them from site and discuss their requirements over the phone.
Gold Coast Gutter Cleaning is here to help you, so to save you waiting, we can complete the work as soon as you're happy and ready to approve the quote. You will be visited by a tradesman ready with all the equipment to do the job.
 We can provide one-off or regular scheduled gutter cleans to maintain the condition of your property. We also offer roof and gutter repairs and every clean comes with a complimentary Roof & Gutter Condition Report, along with photos so that you can see our quality work for yourself.
Our invoices include the following information:
Payment for our invoices can be made by:
When we have completed the work, if a cleaning schedule is recommended, we will organise a FREE reminder to be sent to you a week before your next clean is due.
This will give you peace of mind that we are looking out for your gutters to keep them maintained in their best possible condition.
For some, the first time they realise that they have a roof problem is when they have a leak or overflowing gutter.
We are able to help, however due to safety regulations we are unable to access most roofs while it is raining.  Therefore we do need to wait for your roof to dry to begin work.
Why Are Clean Gutters So Important?
Regular maintenance and cleans protect your biggest asset and avoid problems with insurance claims. Did you know that a claim for water damage arising from a roof leak can be rejected if you do not clean your Gutters regularly and maintain your roof condition? Our free Roof & Gutter Condition report is an excellent way to prove you have kept this up to date. Regular gutter cleaning and maintenance is also important for these reasons:
GcGutters – Your Partner For Residential Gutter Cleaning In Gold Coast
Gutters serve in controlling the flow of rainwater thereby protecting your property's roof, walls, foundation, and landscape. Hence, the gutter requires cleaning as it prevents clogged leaves, sticks, debris, etc.
Affordable Residential Gutter Cleaners Gold Coast
Are you tensed of looking for the best Residential Gutter Cleaner Near Me? Well, in this case, Gold Coast Gutter Cleaning is the right choice. Because we offer the best and most affordable gutter cleaning service. Our company not only offers gutter cleaning but also gutter repairs and gutter guard installation.
We promise that all residential gutter cleaning jobs will be completed by certified and experienced professionals. We pride our cleaning services as we offer cost-effective gutter cleaning services to every customer. Once you are under our service, you need not worry about letting your gutters become clogged or damaged.
How does our Residential Gutter Cleaners Gold Coast function?
Gold Coast Gutter Cleaning service functions effectively to remove all debris from your gutters. We promise to leave your gutters new again and working durably.
We make use of the right tools, equipment, and professional experience to ensure all work is carried out in a hassle-free manner.
What will you get when you choose Residential Gutter Cleaning Gold Coast?
We provide every customer with a quote irrespective of the type of gutter cleaning. Whether you opt for quarterly clean or prepare your roof and guttering for bushfire season, Gold Coast Gutter Cleaners provide you a wide range of gutter cleaning services to suit all your needs.
On-Time and Reliable Service
Gold Coast prides itself on customer service, and so whenever you make an appointment with us, we are on time. Moreover, we offer you reliable gutter cleaning services.
Certified and Insured Gutter Cleaning
Gold Coast Gutter Cleaners are a fully certified and insured company for durable gutter cleaning. We are also insured whilst working on your property. We promise 100% safe service as we always follow the latest safety standards and all work is carried out by safe professionals.
Gold Coast has an unmatched Satisfaction record with its' customers. We promise to make sure that everyone is pleased with our gutter cleaning service and the post-cleaning results we provide.
All in all, Gold Coast cleans your blocked gutters at an affordable price thereby protecting your home and investment. Don't wait until it's too late, just opt for our safe, fast, and reliable gutter cleaning services!